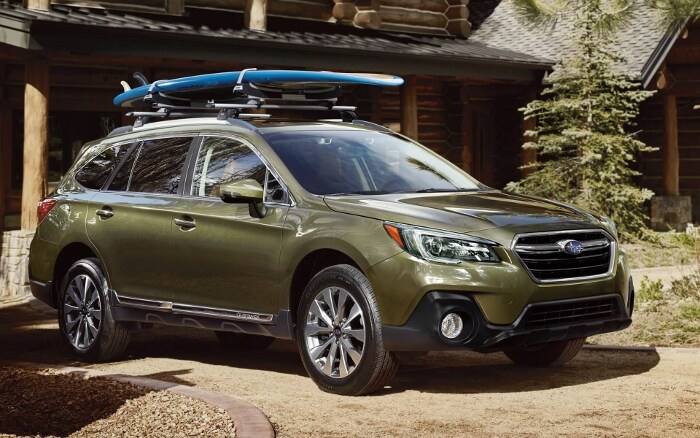 When people in Baltimore, MD think of Subaru vehicles, one of the first things that pops into their mind is their off-road capability. Indeed, the automaker has built its name on manufacturing cars and wagons that take you off the beaten path, and the 2018 Subaru Outback is certainly no exception to this rule. Now available right here at Heritage Subaru Catonsville, the 2018 Subaru Outback provides a perfect blend of durability, in-cabin features, and safety.
Subaru vehicles are built to last, and the evidence of this is that the Subaru Outback is the longest-lasting vehicle in its class. Ninety- eight percent of Subaru vehicles sold in the last 10 years are still on the road today. Every trim of this new Subaru SUV comes standard with a Symmetrical All-Wheel Drive system, which creates stability, efficiency, and a quick response to whatever road conditions you may be facing. Off-road proficiency is further aided by the 8/7 inches of ground clearance and X-Mode, which optimizes the all-wheel drive for maximum traction on slippery surfaces. Finally, you'll be able to take all your outdoors gear anywhere with the standard roof rails and integrated crossbars.
When you're going off-roading, you're still going to want to a safe and comfortable ride, and the Subaru SUV certainly delivers in this regard. The five-passenger vehicles boasts up to 108.1 cubic feet of spacious passenger room and a stylish cabin for a refined feel. You'll find upgraded materials and new finishes, such as noise-reducing front side glass and more aerodynamic side mirrors. Safety features include the Subaru EyeSight™ Driver Assist Technology, which packages Pre-Collision Braking, Steering Response Headlights, and much more.
Get behind the wheel of the 2018 Subaru Outback here at Heritage Subaru Catonsville.